Bryan, Marco, Mike & Joe On Tour!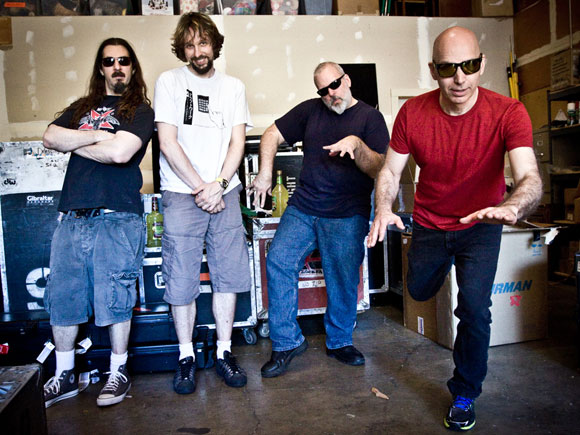 Twang!
How are you doing, dear friends?
Presently I prepare, mentally and materially, for the upcoming many months of Joe Satriani touring. The band will consist of Joe, myself, Bryan Beller and Marco Minnemann. Yes, it's Joe plus KMB. See the photo of us above, taken by Arthur Rosato. Today was day six of rehearsals and things are coming together – how do they say? Swimmingly. That's how they say! We're doing two months in Europe starting in a few days, then we take six weeks off, and then there's another two months of touring the US starting in late August. You will find in this missive all the information we have about the dates that have been announced thus far; some more US dates will be announced soon. We are thrilled with how it's sounding and absolutely buzzing to bring this tour to you, which will present a huge amount of new material from Joe's new album Unstoppable Momentum. (We recorded that album in January, and it features Vinnie Colaiuta on drums and Chris Chaney on bass; it came out on May 7). It is a fun freaking record.
On the first day of rehearsal, we practiced for hours, then went to see Marco play his last show (for the moment) with Steven Wilson at the Fillmore in San Francisco. Great gosh almighty, what a beautiful show that was. So much respect to Steven, he's doing wonderful things. Here's a photo taken by Gretchen Menn after the show which hopefully captures the glowing post-gig vibe. (L to R: Nick Beggs, Bryan Beller, Steven Wilson, Theo Travis, Adam Holzman, MK, Guthrie Govan, Marco Minnemann.)
Also, I put out an album not too long ago. If you haven't checked out Wing Beat Elastic: Remixes, Demos & Unheard Music yet, you're depriving yourself unnecessarily, and as your friend I suggest you get to store.keneally.com soon and check it out. Make yourself happier! Come on! You've earned it.
It contains some very toothsome remixes of Wing Beat Fanastic material, some original Keneally/Partridge demos recorded in Andy's shed (including a version of "Your House" mostly warbled by Andy – a healing balm for those listeners who felt somehow betrayed or injured that Andy did not sing on the WBF album), and some unreleased instrumental music from the Fantastic recording sessions. This album snuck up on us unexpectedly, and I am really happy with it, I think it's great fun, and we can always use some great fun. Available on CD, FLAC and mp3, or any combination thereof.
Here! Here, you can enjoy a video for "I'm Raining Here, Inside (Chatfield/Harris Slight Return Mix)," filmed from the perspective of Bennett the dog, who was seen only as a bit player in the original "Raining Here" video. This video, directed and edited by Scott Chatfield, recontextualizes (did I spell that right? Microsoft Word has an issue with the word "recontextualizes." Screw off, Microsoft Word! But let me finish this Keneallist first) the concept of the original video, in a fashion similar to how the remix deals with the original song. Watch! Woof!
I'm afraid that I'm now sitting here having very damn fond recollections of the Keneally Band/Godsticks UK/Europe tour of but a few weeks ago. Seventy-six huge thanks to everyone who came to the shows and helped put them on, and eighty more special thanks to Godsticks and Rhiannon Jenkins for making the tour happen so fiercely and enjoyably. Bad weather, illness and general human frailty breathed down our necks the entire time, but we still made it work every night. So much special love from me to Bryan Beller, Joe Travers and Rick Musallam for making me happy every night with the power and passion they bring to my songs. You do me proud, gentlemen.
There is a European booking agent who wants us to send him some YouTube links from the tour, whichever ones we consider to be the best of the performances available online. I am VERY OPEN to input regarding what the best performances available online actually are, so if you have any personal favorite YouTube links from the tour, please send your suggestions to us. Thank you!
We also hope to stage the mighty return of the Mike Keneally Band/Godsticks double bill in the United States next year, and are currently working with our booking agency, Blue Mouth Promotions, LLC (BMP), to make that thing happen. Blue Mouth booked the Keneally/Musallam duo tour last year, they handle the US touring for The Aristocrats, Morglbl, Freak Kitchen and a bunch of other great acts, and they want to get an idea from you, our fans, about the best places for bands to play in your area. This doesn't guarantee we'll be playing in your backyard next time we're out, but if we can help BMP identify some great venues and contacts, they'll have the potential to send some fantastic bands your way.
Here's what Blue Mouth is looking for:
1. Venues with approximately 150-400 person capacity (U.S. only for now please!)
2. Great sound system and sound guy
3. THE place to play in your town, even if it's not quite as described above
4. Links and contact person/number at the venue if you know anyone there
5. City and State of venue
Please reply directly to BMP at mikekeneally@bluemouthpromo.com. They'll gratefully look into all your suggestions!
In closing I'd like to remind you that www.radiokeneally.com is still out here, playing my music day and night, waiting to brighten your day like a big bright thing. All the new Wing Beat Elastic music has just been added to the playlist. We are currently juicing up the technology behind Radio Keneally and want to send special thanks to Bill Beardsley, who is our RK pal who listens all the time and lets us know if there are any issues – thank you Ben!
I think these are enough "things," "items," or "stuff fragments" for now. Be well, tie your shoes, and don't forget anything!
All we are saying is give cheese some pants,
Mike
Presenting Wing Beat Elastic!
CD purchase includes instant album download
Download a free track!
WING BEAT ELASTIC
Remixes, Demos and Unheard Music
(Variations on Wing Beat Fantastic: Songs Written By Mike Keneally & Andy Partridge)
1. I'm Raining Here, Inside (Chatfield/Harris Slight Return Mix) DOWNLOAD THIS SONG FREE HERE!
2. Wing Beat Fantastic (Mark Vidler Psychedelic Respray)
3. Bobeau (Keneally Laptopian Remix)
4. You Kill Me (Keneally/Partridge Original Demo)
5. Miracle Woman And Man (Chatfield/Harris No Agenda Mix)
6. Corn (Unreleased track)
7. Your House (Keneally/Partridge demo – Keneally vocal on 1st verse, Partridge vocal on the rest of the song)
8. Bobo (Keneally/Partridge instrumental demo)
9. Land With No Name (Chatfield/Harris Isle of Rachmaninoff Mix)
10-13. Wingbeat Fantasia (Unreleased instrumental suite in four parts):
I. A Respectful Pause
II. Bobolink Wing
III. Out In The Wet
IV. I'm Into It
14. Wing Beat Fantastic (Chatfield/Harris Venusian Single Mix)
Notes from Mike:
In May 2012, as the Wing Beat Fantastic album hovered tantalizingly near completion, Exowax CEO Scott Chatfield (who's spent decades doing work with audio, producing countless hours of programming during his days in classic rock radio in San Diego) started to do some experimenting with the multi-tracks for the song "Wing Beat Fantastic," while engineer Mike Harris and I weren't around. He got partway into a very rhythm-section oriented remix, and then life and work intervened and the mix sat unfinished for a while.
A bit later, shortly after the release of Wing Beat Fantastic, Andy Partridge encouraged me to let UK producer/musician Mark Vidler try his hand at remixing one of the tracks on the album. Vidler had done some transformative work on some of Andy's music and Andy, not the easiest gentleman to impress, was delighted with the results, and eager to see what he might do with a WBF track. Vidler and I got in touch with each other and he was given the go-ahead to work with the title track.
There was a "remix mindset" forming around the WBF project simultaneously on two different continents, without prior planning or forethought. Spontaneously, a seed had been planted that would eventually blossom into Wing Beat Elastic.
I thought Vidler's vision of "Wing Beat" the song was pretty fantastic. I appreciated the thoughtfulness with which he re-contextualized the melody harmonically, and loved all the psychedelic touches he imposed. All he used from my original recordings were vocal tracks and some of my guitars in a couple of sections, and he built a completely valid alternate view of the song around them. Job well done!
What best to do with it?, we wondered.
Later in 2012, while I was on the road with Joe Satriani and Dethklok, Scott's mind drifted back to his own unfinished "Wing Beat Fantastic" remix. Now joining forces with Mike Harris, they completed it, approaching the original song entirely differently than Vidler had, then went on to do additional deconstructive/reconstructive work on some other WBF tunes while I was still traveling (while the cat is away…).
These wouldn't be the sort of radical re-castings of the basic song material that Vidler had done, but largely instrumentally-oriented mixes working near-exclusively with the actual tracks that I originally recorded, with a focus on shining a spotlight on some individual instrumental parts which were underplayed (or nearly entirely obscured) in the final mixes for the Wing Beat Fantastic album.
They eventually worked with five songs: "I'm Raining Here, Inside," "Miracle Woman and Man," "Wing Beat Fantastic," and most radically, they created a blend using the songs "That's Why I Have No Name" and "Land," eventually titling the resulting mélange "Land With No Name."
Even though Scott was generally nearby while work on the Wing Beat Fantatsic album was underway (keeping an ear on things while working in his office down the hall), and Mike Harris was of course constantly there with me during the original tracking sessions, there were still little audio doodads lurking in the multi-tracks for the songs which were surprising and fun for them to discover and work with in their new mixes.
They sent me audio files of their mixes in progress while I was on the road, and I was ferociously entertained. Somehow freeing the instrumental parts which had previously played a support role to a vocal section, and allowing them to stand on their own, gave a great, round lushness to them – the sound of the rhythm section in "Raining Here" and "Wing Beat," the acoustic guitars in "Miracle Woman," etc. suddenly achieved a tremendous heft which was really satisfying for me to hear. Scott and Mike H. highlighted instrumental parts that even I had forgotten I'd recorded; when I heard them they felt like little pals I used to hang out with, and was delighted to be re-introduced to.
Most moving to me was "Land With No Name," the two-song combination they put together. In a way I could never have done on my own (being too close to the two constituent songs to ever achieve the proper distance), they found emotional common ground between "Land" and "That's Why I Have No Name," laying the groundwork for several moments of serendipity where a part from one song worked perfectly with a part from the other when layered together - as though the two songs were always meant to occupy the same space. I was floored when I heard it - still am.
(I offered a few finishing-touch suggestions to the Chatfield/Harris mixes once I was off the road, but the vast majority of the work on the four tracks was theirs, and truly fine work it is!)
Once I heard what those guys were getting up to, I was fired up to do some messing around on my own.
While in Northern California in January 2013 working on the next Joe Satriani album, I did after-hours work on a "Bobeau" remix on a laptop in my hotel room. The basic concept was to take Marco Minnemann's drum track, and offset it rhythmically from the other instruments in the song, so that all the instruments were synched but Marco's performance fell on a different downbeat from the other sounds, creating a new groove which I fell in love with. That was the approach for the first half; in the second half I had fun taking vocals from one part of the song and placing them elsewhere – in particular, taking the vocals from the middle section of the song and putting them over the groove from the ending, which worked, harmonically, way better than it had any right to. I love it when that kind of stuff happens.
This collection of remixes was really starting to have something going for it, and I thought it would be nice to combine them with some of the original demos that Andy and I recorded in his Swindon shed during our songwriting sessions in 2006 and 2008. Eventually we settled on three of them: the acoustic-guitar based "You Kill Me" demo (in a completely different key from the final track, with very different lyrics – no Taliban yet - and an entirely different song structure), an excerpt from the original instrumental "Bobeau" demo (from back when it was still spelled "Bobo"), and a "Your House" demo, which has a few placeholder lyrics which we knew from the outset needed changing, but more significantly has Andy Partridge trying his hand at the lead vocal for the majority of the song – you'll hear my voice on the first verse, but for the remaining verses and bridge you'll hear Andy singing (and we thank Andy for his permission to issue this performance).
Completing the Elastic picture are some instrumental pieces that were originally created as possible links between Wing Beat Fantastic songs, but ultimately were not used on that album:
The short piece "Corn" reclaims an acoustic guitar part, buried in the mix in one section of a song called "Cornbread Crumb" (which was slated to be on WBF for a while), and clothes it in some moody, liquid synthesizer. (As for "Cornbread Crumb" – and some other songs you don't know about yet – we'll get to that at another time.)
Regarding the previously unreleased four-part instrumental suite called "Wingbeat Fantasia": during the lengthy gestation period of Wing Beat Fantastic, many different approaches to the pacing and content of the album were considered. One of them involved taking themes from songs on the album and doing short re-orchestrations of them based around acoustic piano, and linking the main songs with them. I went to Griff Peters' Hilltop Frog recording studio, where he has a lovely old grand piano bursting with personality, and recorded a series of improvisations based around various themes from the album. Back at Chatfield Manor, I edited the improvisations ruthlessly and overdubbed guitars, bass, April West's trombone and various keyboards and effects onto the piano recordings.
Ultimately, it was clear that these link pieces had a distinctly melancholy character that seemed at odds with what Wing Beat Fantastic was fast turning into. The piano pieces were set aside while WBF made its way towards completion.
Later I got the idea that these overdubbed piano pieces, somewhat similar in character, could be combined into a suite. I made two or three attempts at creating it, recombining things and trying different sequences, and never quite nailing it. But early this year, once we had all the other pieces of Wing Beat Elastic in place, I took one more shot at it, and over a couple of days of working with Mike Harris in February of this year, finally arrived at a form that felt coherent to me. It somehow lost a good amount of that melancholy that had earlier exiled the piano link pieces, and achieved a flow that was highly pleasing to me. (In addition to the overdubbed piano themes from the Hilltop Frog session, I also included for contrast in one section part of an unused song idea from the demo sessions at Andy's, an uptempo groove piece called "I'm Into It" which features layered guitars over a Partridge drum loop - an anachronistic insertion which makes me smile.) "Wingbeat Fantasia" emerged whole at last.
We'd originally thought that Wing Beat Elastic might be a download-only collection, a low-profile side dish to Wing Beat Fantastic, but after arriving at the song sequence and listening to it a lot, we came to love it and wanted to give it a full CD release treatment. We still love making physical products and I think we always will. (Wing Beat Elastic is available for download as well, in FLAC and mp3 formats, both including the full artwork and liner notes from the CD package.) Atticus Wolrab has created a beautiful digipak design that accurately reflects, in its color and mood, how this album relates to Wing Beat Fantastic and fits into the WBF universe.
I think that the 53-minute Wing Beat Elastic: Remixes, Demos & Unheard Music is a beautiful listen, and seems to work equally well in headphones and in cars, and in its full glory on elaborate home stereo systems (some people still have those, yeah?). We hope that, if you enjoyed Wing Beat Fantastic, you'll also enjoy this probe into the layers of that album's songs, be interested to hear some of the demos I did with Andy, and appreciate the chance to hear some unreleased music from the sessions as well.
We very happily present Wing Beat Elastic!